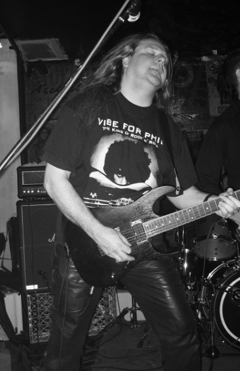 Erik Scheppan, discovered his passion for guitar at the beginning of the 80s.

A great fan of New Wave of British Heavy Metal, he quickly knew which direction he wanted to take. Initially self-taught, he drew inspiration from his lessons with Essen blues guitarist Fred Böhle and local hero Bernd Krämer, and joined his first band.

He paid homage to Metal in bands such as Lions Attack, Roarness and Lord Byron, playing mostly original compositions..

Then in 1990 he visited the Cologne branch of the Munich Guitar Institute, as well as taking part in workshops with Paul Gilbert, Robben Ford and Abi von Reininghaus.

His passion for blues guitarists such as Rory Gallagher, Johnny Winter und Stevie Ray Vaughan developed while he was playing with the band Dogfood, and their pieces remain a main-stay of the Rolling Blues Boys' set list.